Lemon & Dill White Bean Spread with Mediterranean Cherry Tomato & Cucumber Salad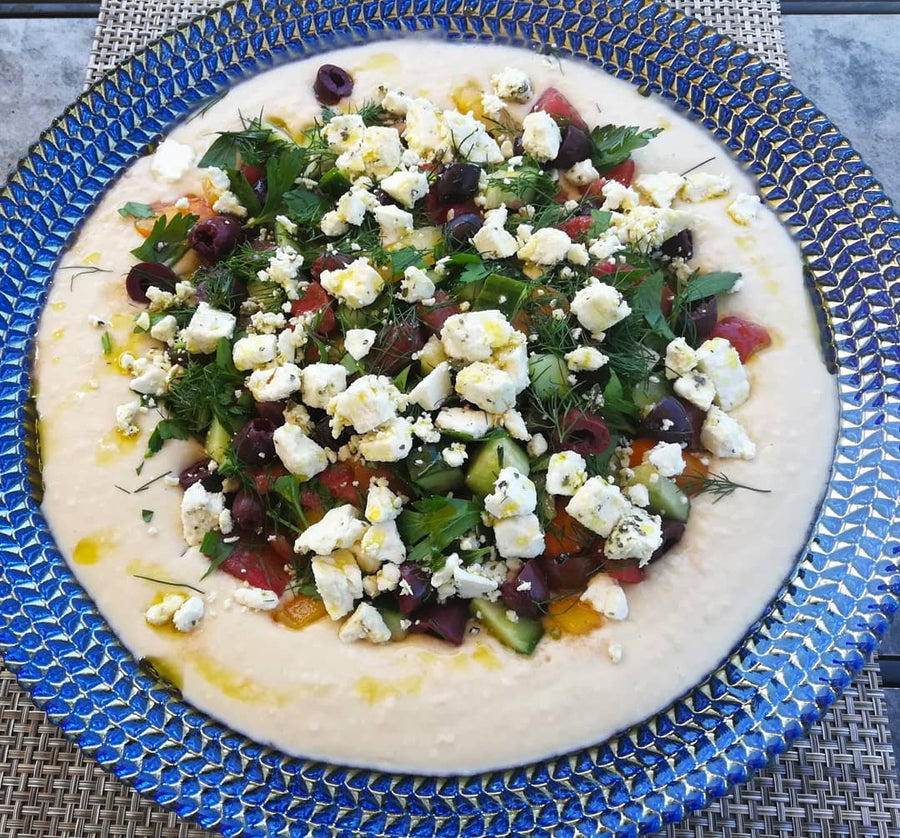 Summer exemplar - This recipe is cooling, healthy, delicious, and easy. Try this lemon and dill white bean spread topped with crunchy cucumbers, fresh herbs, cherry tomatoes and a sprinkle of olive oil marinated feta cheese.
Dill and Lemon White Bean SpreadIngredients
3 - 15.5 oz cans of white cannellini beans, drained (or 2.5 cups cooked cooled beans, drained)
2 cloves fresh garlic
1/3 cup
Dill Olive Oil
1 Tablespoon fresh squeezed lemon juice
Sea salt to taste
Additional
UP Certified Olive Oil
for drizzling
Place the beans, garlic, dill olive oil and lemon juice in the bowl of a food processor or blender and process until creamy and smooth. Adjust seasoning based on the salt level of the beans. Refrigerate until the bean spread becomes a bit thick.
Mediterranean Summer Salad
1 cup cucumber cut into 1/2" dice
1 cup fresh tomatoes diced or cherry tomatoes cut in half
2 tablespoons fresh chopped dill
2 tablespoons fresh chopped flat leaf parsley,
1/2 cup feta cheese
1/2 cup pitted olives, coarsely chopped or halved
1/4 cup
UP Certified Extra Virgin Olive Oil
2 tablespoons Champagne Vinegar
1 teaspoon sea salt
fresh ground pepper to taste
Place the cut-up vegetables in a sealable container. In a separate bowl, whisk the champagne vinegar with the salt until dissolved. Add the olive oil the and pepper and whisk to combine. Pour over the vegetables and allow to marinate refrigerated for no more than an hour.
To assemble, spoon the bean spread into a wide shallow bowl. Top with the marinated Mediterranean Summer Salad. Garnish the salad with freshly cut herbs, crumbled feta, olives, and an additional drizzle of olive oil. Serve cold with pita or grilled flatbread.
---