Breakfast Fritatta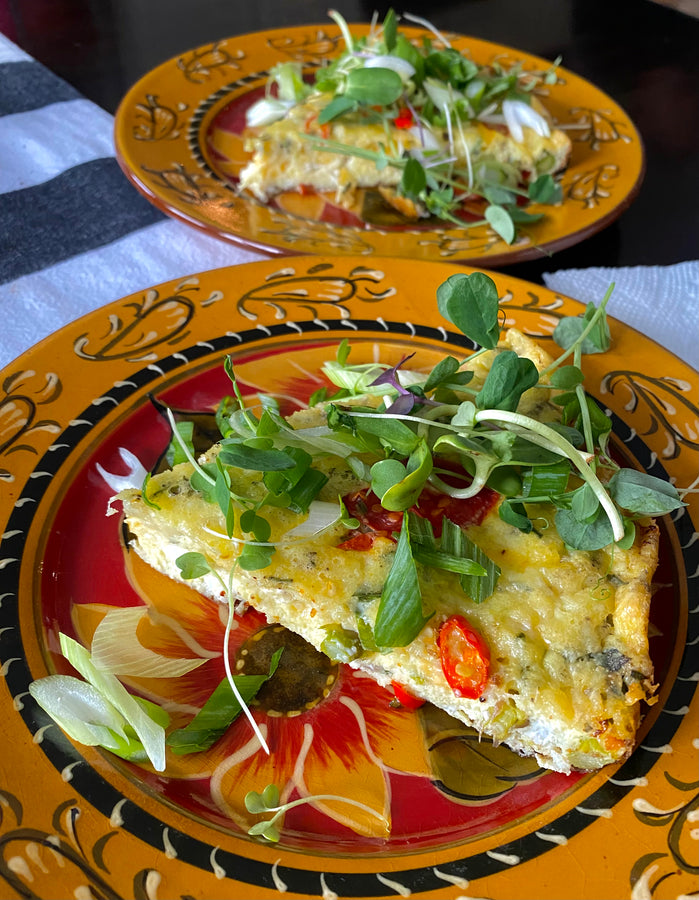 Ingredients:
6 pasture-raised organic eggs - whisked
splash of organic whipping cream
2T EVOO
1T grass-fed butter
1/4 small Red onion - chopped
2-3 cloves garlic
red, yellow, green sweet pepper - 2-3 slices of each chopped
asparagus - 4 spears cut in 1" pieces
mushrooms - 2 small button or other chopped
Fresh cayenne peppers 1-2 snipped with kitchen shears
Green onions - 2 chopped
2 small Campari tomatoes
fresh herbs - rosemary, oregano, thyme, lavender, sage, marjoram - I snip some of each from the garden - use whatever fresh herbs you have
Feta cheese - crumbled
sharp cheddar - grated
parmesan - grated
Directions: Use an iron skillet and HP-EVOO or Grass-Fed Ghee
Sauté onions, peppers, mushrooms, asparagus in 2T EVOO till tender with sea salt.
Add garlic and chopped herbs to bloom and add black pepper.
Add 1 T grass-fed butter
Add whisked eggs with cream - salt and pepper to taste and turn off burner.
Sprinkle Feta cheese and top with cheddar, Parmesan or any other cheese you like.
Snip the fresh cayenne peppers on top.
Top with thinly sliced tomatoes.
Transfer to 350° preheated oven x 20 min. 
Serve: Let rest 10-15 min. Cut in 6 wedges.
Top with fresh green onions, microgreens and salsa
Enjoy!!
---