What Can Our Body Buttercream Do For YOU? - Blog # 27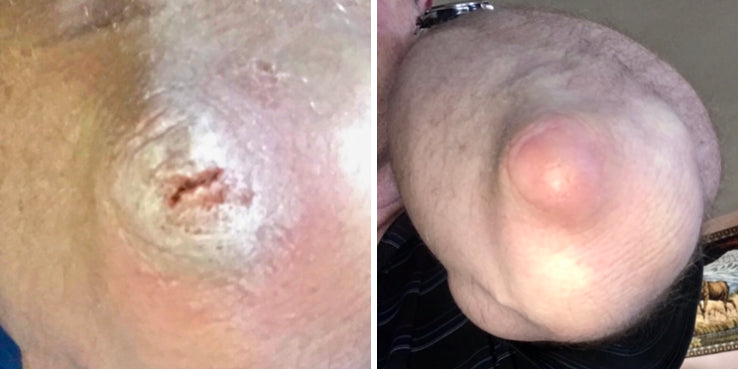 Hi Everyone! Welcome back to another Friday blog. I hope you are all staying well throughout this season and finding ways to get that high polyphenol EVOO shot into your body. Today I wanted to share the first case study on the actual healing properties of our body buttercream. For a complete description of the ingredients and properties of those ingredients, I'll refer you back to my blog on our Whipped Body Buttercream, Blog # 21. 
WHIPPED BODY BUTTERCREAM
The "Magic 13" ingredients are carefully blended, then whipped to a silky buttercream perfection that nourishes your skin with vitamins, minerals and antioxidants, moisturizes and hydrates, stimulates collagen and elastin synthesis, prevents collagen degradation, decreases hyperpigmentation, enhances cell turnover, helps balance skin's pH, tightens skin, shrinks large pores and reduces fine lines and wrinkles. There is natural UV protection of spf 3-4, great to use with another sunscreen for protection.
Use: daily all over after showering to trap moisture, rub into elbows, knees, heels...anywhere that needs moisture for all-day protection.
What's so special about our new elegantly whipped body buttercream, you ask?
Let's look at the 13 amazing organic and first cold-pressed oils and extracts among the ingredients in our luxurious whipped body butterceam and the 13  anti-aging benefits it provides your skin!
The Ingredients: African Shea Butter, Mango Butter, High Polyphenol Extra Virgin Olive Oil, Golden Jojoba, vegetable glycerin, beeswax, Arrowroot powder, Rosehip-Seed Oil, Argan Oil, Essential oils of pink grapefruit, sweet orange, lemongrass and ginger.
Let me introduce my brother who is a master craftsman and custom cabinet builder. He has been in this profession for over 40 years. That's 40+ years of leaning on one's elbows, likely on wood, likely on unsealed wood for much of the time. As we all know, this will wick away and steal all the oils and moisture away from the skin. His elbows have been dry, rough, calloused, and even cracked and bleeding. This is not only uncomfortable for him, but for his clothing, sheets, and spouse...lol. During the pandemic, he has been working from home. This hasn't stopped the habit of leaning on his elbow though. Let's take a look at the condition of his left elbow.
Charles sent him a jar of the body buttercream. I instructed him to put it by his computer, as he is spending lots of time there. He was instructed to use it twice per day, due to the condition of his elbow. He applied it once in the morning, then again after his evening shower. He took pictures (almost) daily of his elbow's progress. 
He used the Body Buttercream 2x/day for 6 weeks. His elbow is soft and healed completely. His wife is stunned! He's tried multiple things over the years. 
He still has a little bursitis from leaning on his elbow, but until he breaks that habit, it won't go away. 
So, until next time my friends, drink, drizzle, digest high polyphenol EVOO, eat fatty fish, drink lots of water, get plenty of sleep, get a good pre/probiotic, exercise your body and mind.
AND...slather on some luxurious WHIPPED BODY BUTTERCREAM!! Click here #EVOO
---