Whipped Body Buttercream - Blog # 21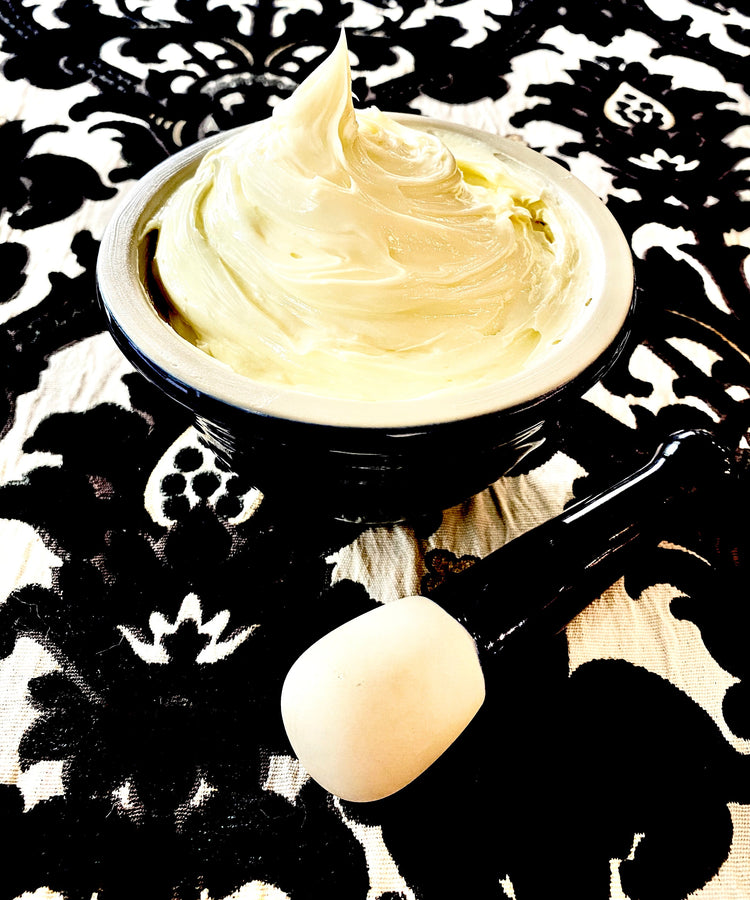 Hi Everyone! Welcome back to another Friday blog. After searching for a natural and nourishing body butter (and I've probably tried them all) and coming up short, I decided to research and create one that met some very crucial criteria. It had to be healing, nourishing, hydrating, made from the best organic ingredients, calming, improve the texture of your skin, not contain any animal products (other than beeswax), have a light fresh clean scent, fight aging and fine lines and wrinkles and not break out my skin. After months of research and studying properties of ingredients, these 13 were hand-picked to provide a range of benefits. 
WHIPPED BODY BUTTERCREAM
The "Magic 13" ingredients are carefully blended, then whipped to a silky buttercream perfection that nourishes your skin with vitamins, minerals and antioxidants, moisturizes and hydrates, stimulates collagen and elastin synthesis, prevents collagen degradation, decreases hyperpigmentation, enhances cell turnover, helps balance skin's pH, tightens skin, shrinks large pores and reduces fine lines and wrinkles. There is natural UV protection of spf 3-4, great to use with another sunscreen for protection.
Use: daily all over after showering to trap moisture, rub into elbows, knees, heels...anywhere that needs moisture for all-day protection.
What's so special about our new elegantly whipped body buttercream, you ask?
Let's look at the 13 amazing organic and first cold-pressed oils and extracts among the ingredients in our luxurious whipped body butterceam and the 13  anti-aging benefits it provides your skin!
The Ingredients: African Shea Butter, Mango Butter, High Polyphenol Extra Virgin Olive Oil, Golden Jojoba, vegetable glycerin, beeswax, Arrowroot powder, Rosehip-Seed Oil, Argan Oil, Essential oils of pink grapefruit, sweet orange, lemongrass and ginger.
The Benefits: 
1. Increase collagen and elastin production - Shea Butter - Hydrator, Vit A, E, D, F, balanced omega 9:6 ratio, emollient (lasts several hours), enhances collagen production, cell regeneration, decreases photoaging and collagen destruction, UV protection, cetyl esters (waxy) lock in moisture. Rosehip-Seed Oil - Hydrator, Vit A, C, F easily penetrates to dermal barrier, increases collagen and elastin, enhances auto-exfoliation and cell turnover, brightens skin, decreases hyper-pigmentation and sun damage, hydrant. Argan Oil -  Hydrator, Vit E, F, from stone-fruit in Morocco, UV protecting, cell stimulating, anti-aging, anti-microbial, anti-oxidants, anti-inflammatory
2. Decrease Dark Spots/Hyperpigmentation -  Shea butter, Rosehip-Seed Oil, Vegetable Glycerin, beeswax. Beeswax and glycerin are powerful humectants that attract water from the air as well as internally, drawing water to itself and holding it there for hours, providing protection, moisture, enhancing healing, calming and reducing dark or red spots.
3. Increase Cell Turnover - Rosehip-Seed Oil, Argan Oil - Increases activity of fibroblasts activity, collagen and elastin.
4. Increase Cell Regeneration - Shea butter, Argan Oil, EVOO - important in membrane function and new cell formation
5. Increase Cell Repair - Jojoba Oil, Rosehip-Seed Oil, EVOO - important in membrane repair and function 
6. Helps to Balance Skin's pH - Jojoba Oil Extract- has a pH of 4.5-5.0, ideal for the skin. Essential oils, particularly grapefruit help balance pH. The pH of stratum corneum (outer layer of skin) is 4-5.5. The acidity prevents bacterial growth.
7. Natural UV protection - spf 3-4: Shea Butter, Mango Butter and Jojoba Oil - Jojoba is the only plant in the world to produce pure liquid wax esters stop UVB rays.
8. Helps Prevent Cold Sores - Jojoba Oil - one of its antioxidants contains docosanol, which inhibits the herpes simplex virus that causes cold sores.
9. Protects Collagen - Jojoba Oil - one of its antioxidants inhibits the enzyme responsible for collagen destruction!!
10. Loaded with Vitamins and Minerals!! A (retinol) = collagen production, brighten skin, decrease hyperpigmentation, B Complex = important in regeneration and decreasing hyperpigmentation, C = collagen production, firming and toning, D = cell regeneration and Ca++ transport, E = collagen production, F = essential fatty acids, K = healing bruises, dark spots, stretch marks, scars, important in clotting and regeneration, Folate - helps body make DNA and RNA and develop healthy skin cells, reducing risk of cancer, firms and tones, reduces oxidative stress in skin, reduces fine lines/wrinkles, nourish and enhances healthy glow. Zinc - very important trace mineral found in every cell of the body. Around 100 enzymes rely on zinc to perform their functions. It is 6 times higher in stratum corneum (outer layer of skin). Acts as an antioxidant to prevent free radical damage, heals and rejuvenates. Important in creation of new cells and their membrane function.  Copper - involved in the synthesis and stabilization of extracellular matrix skin proteins, angiogenesis (creation of new blood vessels), improved elasticity, reduced facial fine lines and wrinkles.
All these vitamins and minerals work synergistically together to achieve optimum repair, function and health of your skin.
11. Penetrates deep. Thanks to our high polyphenol EVOO, the wonderful properties get transported deep into the skin into the upper 1/3 of the dermis. Oils have an ability to carry dihydroquercetin (DHQ). DHQ is an anti-inflammatory, hypopigmenting, anti-tumour, mitigates oxidative DNA damage, prevents UV-induced skin carcinogenesis. Of all the oils, Olive oil was the only one that could carry DHQ into the dermis. Scientists are studying the use of olive oil as a carrier oil for medications, since the biggest problem is how to get the medication deep into the skin for absorption. 
12. Provides Squalene - Thank you EVOO!!!  - high Squalene - important in sebum and vitamin D synthesis. Squalene is present at about 12% in sebum, six times higher than anywhere else in the body. Lipidomics, the study of epidermal surface lipids, is the focus of some of the latest research. They want to understand the ratio of free fatty acids to each other, proteins and other molecules and their function. Why are Squalene levels so high, for example? Sebum is the lubricant or mortar between the cells or bricks. As we age, we produce much less, so squalene levels may make a huge difference in the health and texture of our skin.
13. Noncomedogenic - Meaning it doesn't clog your pores!! Our Buttercream scores 0.6 on the Comedogenic Scale (0-5). 0-2 = non-clogging, 3-5 = likely to clog.
Now, with dry skin season rapidly approaching, it is very important to nourish, hydrate and protect your skin with a good natural product. Drop in to The Virgin Olive Oiler or click here and check out our luxurious new whipped body buttercream and experience the best skin ever!! The scent is universally fresh and clean so everyone in the family can enjoy using it!!
CHEERS!!!!!
...And don't forget to nourish from the inside as well with proper nutrition and hydration. Until next time my friends, drink, drizzle, digest high polyphenol EVOO, eat fatty fish, get plenty of sleep, get a good pre/probiotic for your digestion, drink lots of water, exercise your body and mind. #EVOO!
---