About Our Skin Care Products: Ingredients and benefits - Blog # 26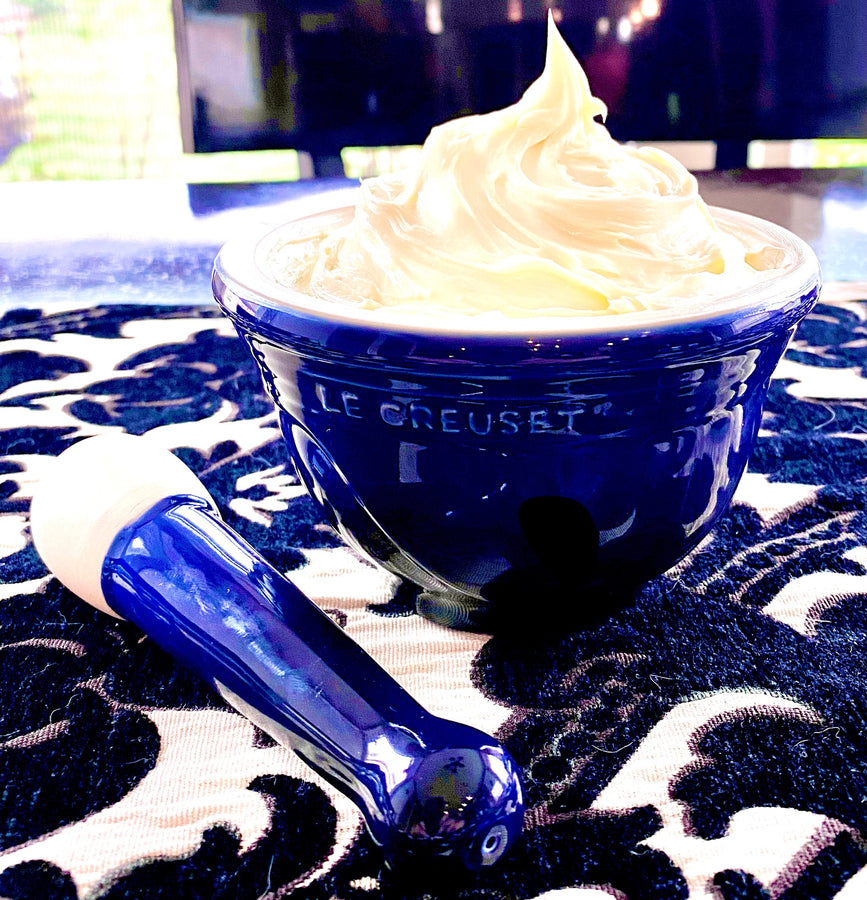 Hello Everyone! Welcome to another Friday blog. Today I want to tell you about the ingredients we use in our skin care products and why we chose them. We look for the highest quality available that meet our standards, including non-GMO, organic, first cold-pressed oils and extracts that will impart substantial benefits to the skin as well as being hypoallergenic and free from the potentially hazardous chemicals found in commercial lotion products, such as phthalates, parabens, formaldehyde, para-aminobenzoic acid (PABA), ethanolamines and petroleum.
Here's the list of winners selected, based on their amazing properties of course!!!
 INGREDIENT LIST: (each product is made from a selection among these choices)
The following oils and butters have powerful antioxidants, anti-inflammatory and anti-microbial effects in addition to the added comments. Oils have an ability to carry dihydroquercetin (DHQ). DHQ is an anti-inflammatory, hypopigmenting, anti-tumour, mitigates oxidative DNA damage, prevents UV-induced skin carcinogenesis. Of all the oils, Olive oil was the only one that could carry DHQ into the dermis.
Comedogenic Scale: 0-5 (Noncomedogenic =2 or less)
0=won't clog pores at all, 1=very low likelihood, 2=mod/low, 3=mod likely, 4=mod/high likely, 5=high likely
BUTTERS: Natural butters are amazing for your skin and are derived from nuts, seeds, or beans. They provide moisturizing, antioxidant and anti-inflammatory properties as well as vitamins and minerals and essential fatty acids.
Cocoa Butter: Emollient, healing powerhouse of polyphenols and vitamins E and K, it detoxifies and hydrates the skin, boosts collagen and elastin and increases elasticity, antioxidants. Provides long-term hydration. Comedogenic=4/5.
Illipe Butter: Emollient, Vit A, E. Higher melting point than cocoa butter with similar FA profile. Great for aging skin, restores elasticity, use in soap, deodorant, body balm, lip balm, lipstick (things you want to keep their shape). Noncomedogenic=1-2/5.
Kokum Butter: Emollient, seed oil from tree in India, high anti-oxidants, anti-inflammatory, anti-microbial, rich in EFAs, great for cracked heels, lips, healing properties. UV protection.  High oxidative stability. Noncomedogenic=2/5
Mango Butter: Emollient, Pressed from the seed and is high in vitamins A,C,E, F and folate. Some UV protection. Noncomedogenic=2/5.
Shea Butter: Emollient, Vit A, E, D, F=EFA, EFAs, balanced oleic/linoleic FAs, emollient (lasts several hours), enhances collagen production, cell regeneration, decreases photoaging and collagen destruction, UV protection, cetyl esters (waxy) lock in moisture, hydrant. Noncomedogenic=0/5.
Ucuuba Butter: Emollient, from Brazil, antioxidants, anti inflammatory, antiseptic, antimicrobial, exceptionally rich in EFAs.
 HUMECTANTS: Water-loving, pull water from the air and hold onto it. Also pulls water from the inside. Important to stay hydrated.
 Glycerin: Humectant: Allows skin to retain moisture, enhances auto-exfoliation, decreases hyper-pigmentation. 
Beeswax: Humectant: Conditions, soothes, calms, prevents loss of water.
OILS:
EVOO: Hydrator, only oil that can penetrate into the dermis, antiseptic, anti-inflammatory, anti-microbial, anti-oxidants, high polyphenols, high vitamin E, K, high Squalene (in sebum and vit D synthesis) Noncomedogenic=2/5
Rose-hip Seed Oil: Hydrator, extraordinarily high anti-oxidative properties, quercetin and ellagic acid were the most abundant phenolic compounds in Tunisian rose hips, easily penetrates to dermal barrier, dry oil, vit A (retinol), high vit C, vit F, increases collagen and elastin, enhances auto-exfoliation and cell turnover, brightens skin, decreases hyper-pigmentation and sun damage, hydrant. Noncomedogenic=1/5
Jojoba Oil: Hydrator, high oleic acid and vit E with high oxidative stability and resistance to degradation, absorbs rapidly, drought resistant, perennial plant, zinc, copper, vit A, E, D, F, vit B complex, one anti-oxidant contains docosanol, which inhibits the herpes virus (cold sores), anti-aging, repairs damaged cells, anti-septic, anti-microbial, only plant in the world to produce pure liquid wax esters stop UVB rays, widely used in sunscreens and moisturizers, repairs dermatoses with altered skin barriers (seborrheic dermatitis, eczema toys, atopic dermatitis and acne), proven anti-inflammatory, shown to be effective in enhancing absorption of topical drugs, balances pH, promotes hair growth, very similar properties to sebum. Noncomedogenic=2/5
Marula Oil: Emolient, very hydrating, fills in cracks and gaps and seals in moisture, vit C, E, inhibits collagenase and elastinase (enzymes that destroy collagen and elastin) and enhances production of collagen and elastin. Comedogenic=4/5
Argan Oil: Hydrator, from stone-fruit in Morocco. UV protecting, moisturizing, high vit E, cell stimulating, anti-aging, EFAs, anti-microbial, anti-oxidants, anti-inflammatory, treats acne due to anti-sebum activity, so controls oily skin. Prevents stretch marks by increasing elasticity in water/argan creams. Noncomedogenic=0/5
Pomegranate Oil: Hydrator, penetrates deep, high omega 5 (Punicic acid), strong anti inflammatory, antiseptic, anti-aging, UV protection, stimulates skin cells, improves elasticity, scars, skin regenerating, improves thickness, astringent, improves skin texture (pro-estrogen supporting skin), boosts collagen, nutrient dense, high vit C, antioxidants, Unclogs pores in scalp to promote hair growth, strengthen blood vessels, revitalizes dull brittle hair, anti pruritic, balances pH. Pomegranate and Shea are used in creating sunscreen due to their natural spf properties. Noncomedogenic=0/5
Coconut Oil: Hydrator, saturated and medium chain fatty acids, antioxidants, some vit E, K, moisturizing. Comedogenic=4/5
POWDERS:
Arrowroot: Absorbs excess oils, heals blemishes
ESSENTIAL OILS:
Sweet Orange: nourishes dry, acne-prone skin, vit C, decreases dark spots, firms skin, shrinks large pores, increases circulation and collagen synthesis, decreases wrinkles, improves elasticity, antioxidants, antimicrobial, astringent (firms skin), antiseptic, anti anxiety.
Grapefruit/Pink Grapefruit: antioxidants, astringent (tightens pores and brings cells closer together), antimicrobial properties, powerful against MRSA, stimulates circulation and enhances mood. Helps control oil on skin. Phytochemicals (limonene) that protects DNA and cells from damage. Vit C, myrcene, terpinene, pinene and citreonellol.
Lemongrass: detox, antibacterial, balances pH, antioxidants, purifying properties.
Clary Sage: prevents DNA and protein damage
Peppermint: antiseptic, antibacterial properties, increases circulation, cooling and cleansing.
Ginger: anti inflammatory, anti-bacterial, soothes redness, eliminates bacteria, inhibits signs of skin damage and aging and restores color and radiance to brighten complexion.
Organic White Willow Bark: cleans clogged pores, highly astringent (shrinks pores and tightens skin), salicin (reduces pore size and wrinkles), tannins (shrink or constrict), flavonoids, minerals, polyphenols that also aid in moisture retention, anti-aging.
 Vit E: fat-soluble anti-oxidant, enhances collagen production
Other vitamins naturally in the oils and extracts:
 Vitamin A: retinol for collagen production
Vitamin C: anti-oxidant, collagen production, UV protection and repair. You can add powdered vitamin C to creams and serums for the face, but unstable. Need to mix just what you need and apply immediately.
Vitamin D: important in calcium transport, prevents premature aging. Over age 50 have less ability to synthesize vit D from sun
Vit F: essential fatty acids; omega 3, 6
Give your skin a boost of vitamins and moisturizing nourishment this winter!! Come in and check out our new body products! Click here to check out our Whipped Body Buttercream, and here for our Lip Balm! Happy Holidays to you all!! May the new year bring us all peace, joy, love and LIFE!!!! XOXO
So, until next time my friends, drink, drizzle, digest high polyphenol EVOO, eat fatty fish, drink lots of water, get plenty of sleep, get a good pre/probiotic, exercise your body and mind. #EVOO
---